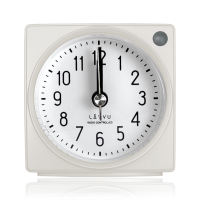 LAVVU White Radio Controlled Alarm Clock with STOP Second Hand - 3 YEARS WARRANTY!
In Stock
LAR3020
This high-quality alarm clock from LAVVU with an extra-long warranty is accurate to the second thanks to automatic adjustment by radio signal from Germany. It also has one special feature - as soon as you turn on the alarm, the second hand reaches position 12 and stops to keep you awake at night!

Thanks to the gradually increasing beeping, you can be sure that it will definitely not let anyone fall asleep. And if you do want to sleep in, just press it in the top right corner and it will wake you up again in 5 minutes.
Depth (mm) 39
Width (mm) 73
Hight (mm) 75