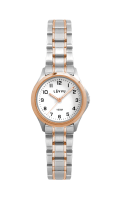 LAVVU Ladies Watch ARENDAL Original Rose Gold Bicolor with 100M watertightness
In Stock
LWL5024
Demanding ladies will find something special!

LAVVU ARENDAL watches are not only elegant, but above all highly durable thanks to their superior 100M water resistance and all-stainless steel design.

You can sport and swim with it, or simply wear it to work without worrying that it won't be able to handle more demanding situations. In fact, this watch will last much longer than you might think.
Case diameter (mm) 27,5
Wrist circumference (cm) 19,5